Your Free Diet Profile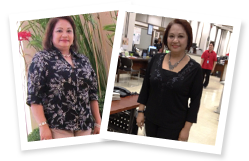 "People were amazed at how much weight I have lost. They kept on asking what I did and I just told them what I did in the program - follow the meal plans and read the sessions. No artificial medicines. It's all in the food you eat."
- Lorne
*The testimonials presented are individual experiences that are neither advertisements nor guarantees. As with any diet program, monitored meal plans and regular exercise are required to lose weight for the long term. Always seek the advice of your physician before starting a weight loss program, an exercise program or when changing your eating habits.